Stockbrokers in the blizzard of 1888
Look out the window. Now down at your loafers. Now back at the six foot snow drifts. Now back at your sopping feet. Now up at this post. Sadly, none of these boots are on your feet but they probably should be, given the 5' of snow that was just dumped on the East Coast.
There are plenty of attractive, well-made boots out there (read:
Alden
anything), but when it comes to actually trooping through snow, traipsing across black ice, hiking up slushy subway stairs who wants to risk it? In the name of preserving of your Indy boot and your pinky toe, I've collected a handful boots that are made expressly for Winter. Not just some pansy urban winter. An actual, shovel-yourself-out-your-front-door-like-a-big-boy Winter.
I also need to get this rant off my chest: HUNTER GALOSHES ARE NOT MEANT FOR THE SNOW. OR COLD WEATHER. THEY ARE RAIN BOOTS NOT SNOW BOOTS. DO NOT WEAR THEM AS SUCH. I DON'T CARE HOW GOOD THEY LOOK. YOU WILL BE COLD AND SAD. Good news is, I have an awesome, cheap alternative below! Check them out, you'll be happy and warm, I promise.
Anyway, from my couch in Vermont to your iPad in some coffee shop enjoy this list of tried and true kickers to weather the storm. Nor'easterrific. - M
BAFFIN HUNTER
As promised, this is the winter-ready alternative to Hunter brand galoshes, (ironically the style is called 'hunter'). They are created to stay comfortable up to -40C/-40F temperatures and with a removable liner they double as -yes!- spring rain boots. Details: 8mm 3-component felt liner designed to wick moisture away, EVA and Thermatuf insole, Premium Polar Rubber outsole, TPR/Rubber/PU base. $50 at Zappos
VIBERG 110 CRUIZER
I've blogged about Viberg before but they deserve another mention. Made for loggers, hunters and woodsmen, these are virtually indestructible. Plus, in extreme conditions they'll be just fine with a wool suit. Details: 10" Black full grain oiltan upper stock, double leather vamps, full snag proof seams, hard toes, solid brass stud hooks and eyelets, leather insoles and heavy leather counters, 12 iron loggers oak midsole, urethane outsole. See more and order direct at workboot.com
SORREL KINGSTON PEAK
Sorel says, "Modeled after our classic Caribou boot, the Kingston Peak features a waterproof, seam-sealed upper for total protection from the elements and a warm felt lining to insulate feet from the cold." Details: Waterproof leather upper, felt collar, rubber outsole with herringbone design, rubber sidewall protection, durable welted toe rand. $180 at sorel.com






DANNER MOUNTAIN LIGHT II
Like Viberg, Danner has been well known with American workers for generations. This boot is a classic hiker model, and one done right. I like these specifically because the buttery leather and contrast laces take down the logger-man factor and make them more versatile for an urban guy. Details: GORE-TEX® liner, Full-grain one-piece leather upper, Vibram® Kletterlift outsol. $250 at danner.com
NATIVE FITZSIMMONS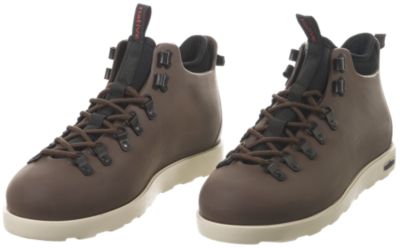 Sartorially Inclined reviewed these and made a good point: if you don't want to risk spending the big bucks on Danners these are a great starter option. I've been oogling these for months now so I'm really excited to have them in here (and will be finally purchasing a pair for myself thankyouverymuch). They're super light and, thanks to a removable liner, nice an cushy. If you don't like the brown color above, they come in an awesome range of colorways that make me want 10 pairs. Details: Synthetic upper, neoprene liner, metallic D-ring eyelets. $70 at zappos.com
L.L. BEAN BOOTS 10" SHEARLING LINING
Classic made warmer. Yep. It's that simple. Details: waterproof full-grain leather, steel shank and our original rubber chain-tread bottom. Top boot lined in shealing, Boot bottom lined with 200-gram Thinsulate™ Insulation. $149 at llbean.com